Testimony of God's work at Tejas
At Tejas, we find great joy in serving people and setting the stage for Jesus to transform lives. Today I would like for you to hear from one of our ministry partners how this mission is vital. If you are blessed and moved by their testimony, I encourage you to give and get involved with Hope Mommies. Their success is our success. Be a part of God's people coming together to be the hands and feet of Jesus.
– Paul
P.S. Updates about the pool, summer staffing and an opportunity to join us are after this great testimonial!
Did you know that 1 in 4 women, and families, will experience miscarriage, stillbirth, and/or infant loss? This is such a staggering statistic. If it hasn't happened directly to you, with numbers this high, chances are you most likely know a family member or friend who has suffered this type of loss.
Hope Mommies was created for the 1 in 4 as a Christian nonprofit whose sole purpose is to come alongside the bereaved – bringing comfort, encouragement, companionship, and hope as they continue to walk this side of eternity without their beloved son or daughter.
This April, Hope Mommies will be hosting our Annual Retreat in person again (for the first time since March of 2020!) for these grieving mothers to seek and worship the Lord, as they begin to process the trauma and celebrate their children's lives together, right here at Tejas.
Hope Mommies held a retreat at Tejas for the first time in the winter of 2015 and it instantly felt like the perfect fit for us. Tejas is just far enough outside of town to really feel like an escape from daily life, the grounds on the Meadows side of camp are gorgeous and serene, the Four Seasons conference room is the perfect size to host and serve 75 women, and the staff at Tejas is always accommodating, professional, and friendly to work with.
We are prayerfully asking our Tejas family if anyone would be interested in donating towards scholarships for women to attend this event in April. The full cost for one woman to attend this retreat is $340 for the entire weekend – this includes all meals and lodging at Tejas, along with 4 keynote speaking sessions, 4 times of worship, unlimited access to a Prayer Room, 3 small group times, Hope Box Gathering supplies, a goody bag filled with specially curated items to shower them with love and point them to Jesus in their grief, a devotional, a 11×14 birth print, and more!
The life change that happens at our retreats is so important. Please be in prayer for our upcoming event and that Jesus will heal and comfort the women who attend this year.
Jennie Parks
Hope Mommies – Executive Director
I cannot believe how fast time flies! The last communication I sent out was about our pool and needing some immediate help. I had so many people come to our aide and give contacts and advice. I am glad to report we have found the source of our pool leak and built a great relationship with a new vendor who is also helping us fix other issues as well as we prepare for summer. This is a great testimony of God's provision of bringing people together in ministry as we set the stage for Jesus to transform lives.
WANTED: Servant-hearted young adults who love Jesus and the outdoors
1999 was my first summer serving at Tejas and it changed my life! Here I am with Derrick Preston serving in the kitchen. We have come a long way since goofing off together… maybe. 🙂 Derrick was in my wedding, has come back to visit and serves in his community today. Our time at Tejas, helped shape our conviction to follow Jesus where ever he led us.
Do you know anyone 15 years or older who would be interested in joining us this summer? We are hiring! We are looking for hard-working, energetic, and servant-hearted young adults who love Jesus and the outdoors.
Base pay is $750 bi-weekly with the opportunity to earn more through additional training. I really believe a summer with us will be life changing, just like it was for me back in 1999!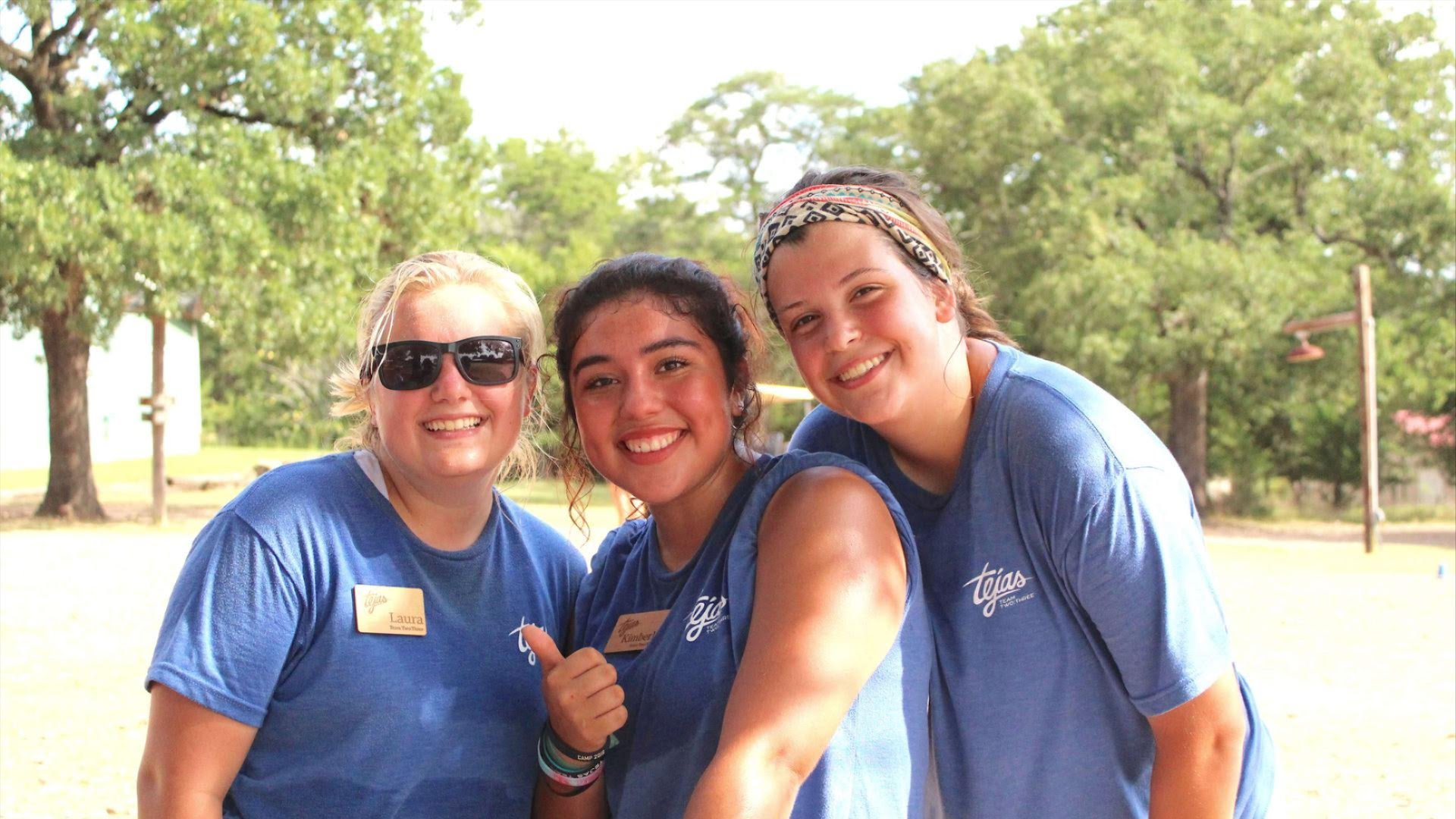 Has your pull-up bar turned into a place to hang wet clothes? Are your dumbbells being used to prop open the door? Are the resistance bands you promised yourself you'd use during quarantine, still in their original packaging? We have a solution for you.
Tejas is looking for exercise equipment donations. One of the most common reasons for a person not being able to serve at Tejas is summer workout requirements for high school/collegiate sports. By providing workout equipment, Tejas will help student-athletes who want to serve on summer staff and train for their sport. If you have something, please let me know and we can pick up and put it to use!
Upcoming Events
Think of our special-themed weekends as a getaway with a purpose. We have created several themed weekends for you to experience. Come join us on one of these fun adventures to spend time together as a family!
Continue praying for us and please consider giving today. With every partnership dollar, you are choosing to join us in setting the stage for Jesus to transform lives.